Akoya is a classic pearl that is worn by many people worldwide. From Jackie Kennedy to Marilyn Monroe to the royals, it has been worn by everyone. These pearls are beautiful, cost-effective, and have a perfect luster.
However, many people wonder if you can wear them every day. Keep reading to find out.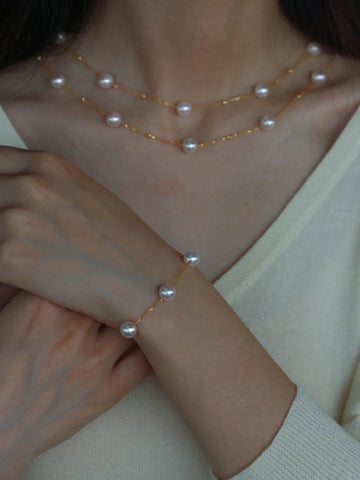 Can You Wear Akoya Pearls Daily?
Yes, you can wear them daily because they are small in size and go well with everything. The natural body oil we produce ensures that the pearls stay lustrous and hydrated. That is why you don't have to think twice about wearing it daily.
However, you should also care for your Akoya pearls if you will wear them daily. Here are the top ways to perfectly care for your Akoya:
It Should Be The Last Thing You Wear
Caring for the pearls beforehand is just as crucial as after-care. Keep in mind that these pearls should be the last thing you wear. Get ready with your makeup, outfit, perfume, hairspray, and then wear the Akoya pearls.
Wearing them last will guarantee the pearls are safe from harsh chemicals present in perfumes and other things. That is because these pearls are porous, which means they will absorb anything nearby. In the long run, this can cause discoloration.
Wipe The Pearl After Each Use
After prolonged use of Akoya pearls, be sure to wipe them down. All you have to do is take a soft and clean damp cloth and wipe it over the pearl. It will remove any residue on the pearl from chemicals, oils, sweat, and much more.
You can store a clean cloth on your dresser to remember it each time you take off your Akoya pearls. It will allow you to build a habit of cleaning the pearls after each use.
No Showers, Swimming, Or Exposure To Harsh Chemicals
Chlorine from swimming, shampoo chemicals from water, and other harsh chemicals can ruin your pearls. In the long run, these chemicals will eat away the nacre layers and disintegrate your pearls. That is why you should always remove them before any such activities.
If you own pearl necklaces, constant water and chemicals will loosen the silk, and your pearls will not hold on to the string. That is why it is best to keep the pearl away when performing these activities.
Restring The Pearl Necklaces
If you want the best for your pearl necklaces, you need to restring them every year or two. It will keep the knots tight while guaranteeing the silk remains fresh. It is one of the best maintenance practices for your Akoya pearls in the long run.
Final Words
Yes, you can wear Akoya pearls daily, but don't forget to take care of them following these guidelines. Once you do, your pearls will look fantastic all the time and last a long time to come. Akoya pearls are a beauty to wear and can enhance your style in no time.