Many trends have come and gone when it comes to jewelry, but the pearl stone has stood the test of time. The pearl is related to the moon, and it brings about calm and peace in the individual wearing it. So, the stone has many positive effects and benefits on your life.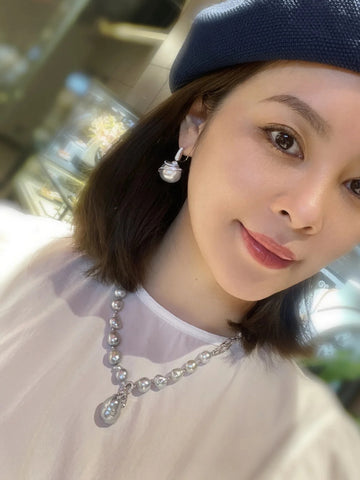 Here are the top benefits of wearing a pearl stone.
Strengthens Courage And Positivity
The pearl is said to improve courage and positivity in the person wearing it. Consistently wearing pearls guarantees you become kind, emotionally accessible, and mentally healthy. Keep in mind that you will notice these benefits once you have a consistent routine of wearing the pearls.
In the long run, it also enhances your desire to explore and travel the world. If you think you will do well with these qualities, then you and the pearl are meant to be. You will immediately notice its positive and calming effects on your mental and emotional health.
Symbol Of Prosperity
Pearls have been a symbol of prosperity for many years now. They are said to bring good fortune to anyone who wears it. While this is not scientifically proven, many pearl-wearers have experienced this benefit in their lives.
You can also invest in a pearl and wear it as a symbol of good fortune. It will elevate your style while ensuring you are calm, centered, and prosperous. So, select the pearl accessory you want and start wearing it today.
Creates A Positive Balance
If you feel like you are all over the place emotionally and mentally, wearing a pearl will do you good. It is said to bring positive energy to the person wearing it by ensuring that they remain emotionally centered. If you are struggling to balance your emotions and life, you need a pearl accessory.
Once you start wearing it, you will notice positive energy around you and feel more calm and centered. Keep in mind that this will not work if you don't wear the pearl regularly. That is why it is best to invest in pearl rings or earrings that you can wear daily.
Improves Self-Confidence
Wearing beautiful accessories and clothes always makes us feel powerful and confident. Wearing pearls has the same effect because they are one of the most beautiful and elegant stones out there. Once you see yourself in pearls, you will instantly become more confident in your appearance.
Of course, the most exciting part is that pearls go with all outfits and styles. So, it doesn't matter whether you are going for a formal or casual look because your pearls will look with anything.
Final Words
These are the top four benefits of wearing pearls. If you are looking to cultivate all of this in your life, all you have to do is get a beautiful pearl accessory such as a necklace, earring, or ring. Once you do, you will reap these benefits on your health and appearance in no time.