Pearl Sizes
  Pearl size is one of the key factors affecting the value of pearls and also one of the first things to be noticed.
  Akoya Pearls range from 3-9mm,While freshwater pearls range in size from as small as 5mm to as large as 13mm. Pearls below 7mm in size are considered to be on the smaller side, while 7-8mm and 8-9mm are among the more popular sizes selected for necklaces in Freshwater pearls. Anything sized from 9-10mm and above is considered to be above average in size, and such pearls are more rare and valuable.
SIZE GUIDE For EARRINGS
5-6mm pearls are perfect for women who enjoy a delicate, understated look.
7-8mm are our most popular size. Perfect for day-to-day style. 
5mm pearls and above are ideal for women who like to make a statement with their jewelry.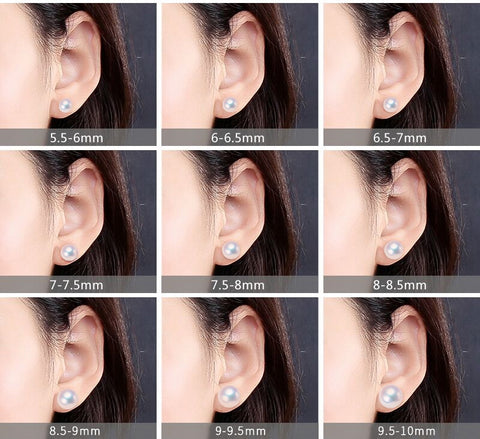 SIZE GUIDE FOR NECKLACE
Before we go any farther, you should know that the most popular, classic and versatile pearl necklaces are in the 7.0-8.0mm size range. The 7.0-8.0mm size range is widely acknowledged to be the "go-anywhere" size, perfect for nights out, office wear or even a quick trip to the grocery store in a T-shirt and jeans. 

This size range is also age-appropriate for ladies from 16 years old up through women in their 50's, so these are necklaces that will be worn and enjoyed for many, many years. In this size range you have two options: Japanese Akoya pearls AND Freshwater pearl necklace 7.0-8.0mm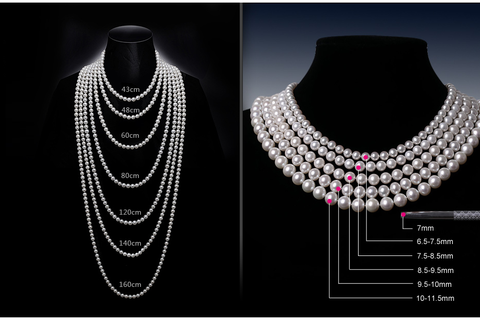 The photo above shows the most popular white pearl necklace sizes from 6.5-7.5mm through 10.0-11.5mm. Each half-millimeter increase in size may not seem like a lot on paper, but keep in mind that pearls have volume as well as diameter.
  And it also shows the pearl necklace length Comparison.
  South Sea Pearls features larger sizes in natural shades of black, white and gold. These pearl types are considered "luxury" pearls, and range in size from 9.0mm to 15.0mm and larger. Tahitian pearl necklaces often feature a graduation rate of 2.0 to 2.5mm, sometimes larger.
  They'll typically be "graduated" in size, so a strand might be labelled as 9.0-12.0mm. What that means is that the pearls progressively get larger from 9.0mm at the clasp to 12.0mm in the center and so on.