Why We Recommend White Pearl Other Than Colored Pearls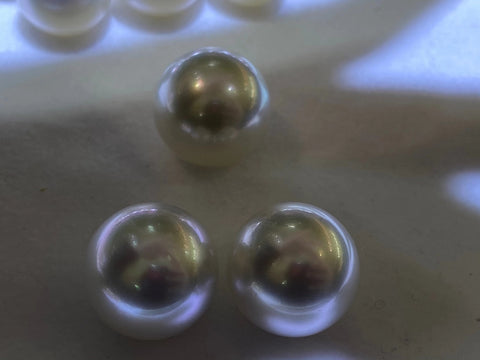 White South Sea Pearls With Rose Overtones
 photo by: Myseapearl
  A pearl's color is also called the body color, presenting in various hues including white, Rose, black, silver, gold or pink. A pearl can also have a special overtone,as the picture above, especially for saltwater pearls, which is seen when light reflects off the pearl's surface. 
  So , which body color do you prefer? Do you want to wear white or colored pearls?Take freshwater pearl for example, the natural colours are white, rose, or with a hue of lavender. All other natural looking or fancy coloured freshwater pearls are colour enhanced or dyed.
  Pearls are astrologically believed to calm down a person's mind thereby helping him to control stress/anger/anxiety. That is why we recommend white pearl first. It has a beneficial effect on mental stability, as it is connected to the Moon, the ruler of mind and the fortune of a person.Besides, The white colour denotes peace and harmony in astrology.

  The White Pearl mainly comes in three varieties, namely White Akoya, White South Sea and White Freshwater. An elegant white Japanese Akoya pearl is a perfect gift for your mom, sister, best friend, for Back to School, Holiday, Birthday and Wedding opportunities. These pearls will be appreciated and cherished for many years to come.
  View Our Best Sellers Of White Pearls
 Freshwater Double strands                       Freshwater Triple strand necklace    

  Of course,the color of the pearl is really the wearer's preference. The colored pearls with cream overtones or medium-deep golden pearls may look better on women with warm complexions.While white pearls are suitable for most of women